Pacific: Confederated Bands and Tribes of the Yakama Nation, University of Montana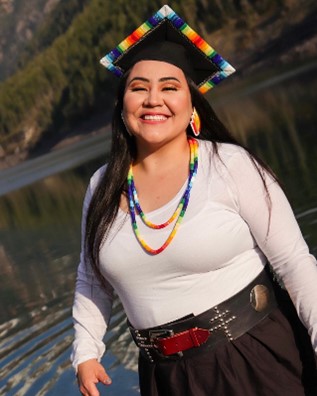 My name is Sattie Fisher, I am a current graduate student at the University of Montana, and an enrolled member of the Confederated Bands and Tribes of the Yakama Nation, Washington state. I am currently working on my master's in wildlife biology, and I am conducting my research on my reservation in Washington state looking at the impact of feral horses on elk and deer. This study is important to my people because our people rely on elk and deer populations as sustenance for our families. After I receive my masters, I would like to join a tribal organization to help preserve their natural resources. I have had the opportunity to work with different tribal entities throughout the nation in the U.S.; I have worked with midwestern tribes in Michigan and Wisconsin in wildlife conservation, I have worked here in Montana with the Salish and Kootenai Tribes protecting endangered species by suppressing invasive species in Flathead Lake, I have also worked with Indigenous programs in Alaska as well as internationally with Indigenous people of Costa Rica.
I joined the wildlife program because I would like to join Indigenous people in their efforts to preserve their cultural ways of life by conserving their natural resources and wildlife. I believe I could contribute to Native American communities with my experiences with different tribes nationally and indigenous people internationally.